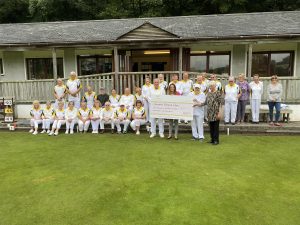 On the afternoon of 25th September we organised not only presentation of our
own club awards but the presentation of the cheque to Cornwall Hospice Care
after our very successful triples event on August 22nd
The photograph shows the cheque to the value of £1,294.63 being presented
by Jim and Georgina Rule and club Chairman Richard Read to Jane Appleton
representing Cornwall Hospice Care. Jim was invited to the ceremony as he
was the instigator of the event and we were following in his footsteps and
taking up the baton for this very worthwhile local charity.
In between the ceremonies we had a very good game of bowls and followed it
with an enjoyable and welcome faith tea. In view of the success of the event
we shall plan to do the same in 2022. A big thank you to all who took part in
both events.